If you've ever wanted to clip those harsh, righty-angled corners off of your photographs, then
RoundPic
will do it for you for free.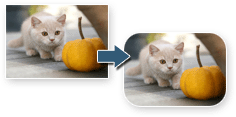 All you do is upload your image, or give it a URL to get it from, and then choose your size of corner from the 12 possible sizes and the colour of the background (the holes left when the corners are removed). It'll also let you resize the image as well and you can preview your results before downloading.
No registration required, just download the resulting image and you're done. It's a pretty simple, one-horse site but it does what it says it does.