Windows users are pretty well catered for but if you've ever downloaded a
Flash
(
FLV
) or
Shockwave Flash
(
SWF
) movie to your Macintosh desktop and tried to play it, then you may have hit a problem or two. The latest version of QuickTime disables playback of Flash movies within QuickTime movies by default. Okay you can easily re-enable this via the
QuickTime System Preferences
but there may still be Flash movies out there that QuickTime may fail to play.
A better bet is a stand-alone player and, while Adobe actually make one available if you look hard enough, there are a couple of other free options available…
Adobe SAFlashPlayer
- I suppose I'd better mention the Adobe offering as it should be the authoritative player to use. Well, for SWF files it is as I couldn't get it to open any of the FLV files I tried it with.
Adobe provide both Intel and PowerPC versions of their standalone player but they're not that easy to find by simply browsing or even searching their site so go to the link above and search for "Standalone Players" and the first instance found should leave you looking at standalone player downloads for both Intel and PowerPC based Macs.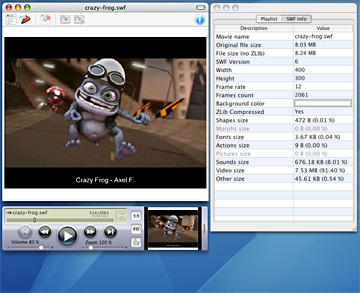 SWF & FLV Player
- This was formerly known as SWF Movie Player, who's free version was seriously hamstrung and pretty useless. However, this is now a decent little utility that allows full playback of FLV movie files. There is a commercial Pro version available for those that need a bit more functionality and it'll also allow you to…
P

lay, pause, fast-forward, rewind, frame-by-frame playback and browse through Adobe SWF/FLV files.

Browse websites for Flash animation.

Download SWF/FLV files from web-pages.

Open and play any SWF/FLV file on the web directly.

Save Flash animation to hard drive with all the external resources it uses (PRO version only).

Zoom in/out your movie to display a specific part of SWF file.

View Flash animation in fullscreen (PRO version only).

SWF/FLV playlists management: shuffle, repeat one item or the whole list.
A couple of other free utilties that can play Flash media files and that are worth checking out are…
Democracy Player
- This isn't just aimed at playing Flash files! It's being designed on the idea that it'll be able to play much of what it sees as an upcoming boom in internet TV and video. Democracy Player is a powerful TV viewer that downloads, manages and plays the latest videos on your computer. There's no need to squint, the Democracy Player can play the highest quality videos in full-screen, and will play them one after the other, just lean back and enjoy.
If it's video on the internet, Democracy Player should be able to play it…

Play virtually any video - Quicktime, WMV, MPEG, AVI, XVID, Flash and more. Browse your collection, make playlists, stay organized.
Subscribe to any video RSS feed, podcast, or video blog. Explore hundreds of free channels with the built-in Channel Guide.
Download and save videos from YouTube, Google Video, Yahoo Video, and other sites.
Your computer screen is a high-def display. Watch free HD videos in gorgeous fullscreen.
Easily download any BitTorrent file. Fast. Then watch it in the same application. Simple!
flvThing
- This is a pretty basic little utility that plays Flash video files, otherwise known as FLV files. Download your FLV file from any of the popular video sites and then view them on your Mac using flvThing.
It doesn't have much in the way of bells and whistles but it does the job.