If you're a fan of instant messaging systems like
Yahoo Messenger
,
MSN Messenger
,
Google Talk
,
Jabber
,
AIM
and
ICQ
and don't have access to the client software, then you might find
meebo
worth checking out.
meebo
- connects you with your instant messaging buddies from absolutely anywhere for free. It supports Yahoo, MSN, Google, Jabber, AIM and ICQ so whether you're at home, on campus, at work, or on holiday, just visit meebo on any computer to access all of your buddies and chat with them, no downloads or installs required!
eBuddy
- Another such online service is eBuddy and they allow you to connect to MSN, AIM and Yahoo messaging services. All you need is a Javascript capable browser and they even offer a
mobile
version to support xHTML or WAP based devices. This includes mobile phones, PDA's, Sony PSP and Nintendo DS so you can chat while you're on the move.
ILoveIM
- Lets you connect to MSN, AIM, Google and Yahoo messaging services.
…and then there there are some service specific online services like
MSN Web Messenger
,
AIM Express
,
ICQ2GO!
and
JWChat
.
Of course if you really want an installed cross-system client solution, then have a look at…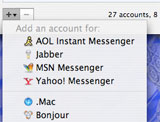 Adium
- A Mac OS X application that allows you to chat with AIM, MSN, Yahoo, ICQ, Jabber, Bonjour, Google. .Mac, Lotus Sametime, Novell Groupwise, QQ, Gadu-Gadu and LiveJournal Talk messaging systems.
JBuddy Messenger
- a cross-platform solution that supports AIM, MSN, Yahoo, ICQ, Lotus Sametime and Jabber messaging systems.
Trillian Basic
- a skinnable Windows client that supports AIM, ICQ, MSN, Yahoo and IRC messaging systems.